Welding & Fitting and Automobile Mechanics students are preparing to face-off in a regional Montérégie Olympiades québécoises des métiers et des technologies. The competition demands students to perform tasks related to their field of study competing against students from other school boards. The Welding and Auto competition for the Montérégie will be taking place at the NOVA Career Centre on Friday, February 9th.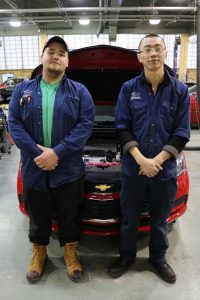 In Welding, NFSB has: Sabastian & Shawn-Avery (Jules their teacher in the middle)
In Auto, NFSB has: Chen & Kurtis
Good luck to all the students competing from the various school boards… but let's be honest…. Go NOVA Go! Have a great time and congratulations to the four of you (Sebastien, Shawn-Avery, Chen & Kurtis) for being part of this exciting competition.
If you'd like to know more about Les Olympiades québécoises des métiers et des technologies
*** Welding teacher Brian Burton is really excited about the Olympiads… as you can see he has his own Olympic Torch ready for the special occasion.***