The New Frontiers School Board is located in the south-west corner of the Province of Quebec, Canada; just a 20 minute drive from the City of Montreal. Our Vocational Career Centres are located in both suburban and rural settings, perfect for creating a warm and welcoming environment for our students while maintaining the convenience of being close to a big city.
English is the language of instruction and certification
(students need a B2 level of proficiency – TOEFL: Test of English as a Foreign Language or the IELTS is an English language test for study).
By choosing to study a vocational program at the New Frontiers School Board, not only will you receive the most up-to-date training in our safe, friendly and state-of-the-art Centres, you will make friends and create memories that will last a lifetime.
With three Vocational Training Centres (CVCEC, HAECC, NOVA Career Centre) and many vocational programs to choose from, you are sure to find something that matches your interests perfectly.
*An English language proficiency evaluation may be required upon registration. If the student is unable to communicate in English the student may be asked to take an English course (at their cost) before being accepted into the program.
Our Centres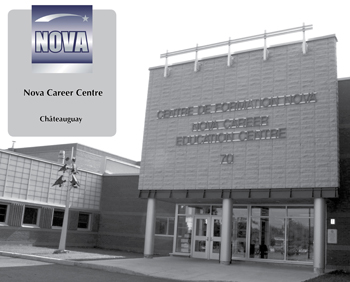 City of Chateauguay
Population 50,000
20-minute drive from Montreal
Suburban setting
Programs offered at NOVA: 
(Accounting, Automobile Mechanics, Construction Business Management, Hairdressing, Institutional & Home Care Assistance, Interior Decorating & Visual Display, Residential & Commercial Drafting, Secretarial Studies, Starting a Business, Welding & Fitting, Welding, High Pressure)
*TAKE A VIRTUAL TOUR around our CENTRE!* – click picture –>
---
City of Ormstown
Population 4,000
1 hour drive from Montreal
Rural setting
Programs offered at CVCEC
(Carpentry, Institutional & Home Care Assistance)



---
City of Huntingdon
Population 2,500
15 minutes west of Ormstown
Rural setting

Programs offered at HAECC
(Horticulture and Garden Centre Operations, Landscaping Operations)