Valleyfield CLC – Gault Institute

Career Fair 2016: A Huge Success
The second annual Career Fair, held on March 16th, was once again crowning success. Students visited a wide variety of exhibitors including nine Continuing Education programs within the New Frontiers School Board, such as welding, interior decorating and design, horticulture, just to name a few. The Valleyfield fire department was on hand explaining their field of work, the equipment they use, as well as some fire prevention strategies. Other visitors included the Sûreté du Québec and the Cégep de Valleyfield. Special guest Kyries Hebert, number 34 of the Montreal Alouettes, also paid the Cycle three students a visit to discuss the importance of working hard, following your dreams, and never giving up. Our students had a wonderful day and left the event with smiles, enthusiasm, and newfound appreciation for many fields of work. A special thank you goes out to everyone involved in making our second annual career fair a huge success!
Chateauguay CLC
Howard S. Billings HS
Home Recording Basics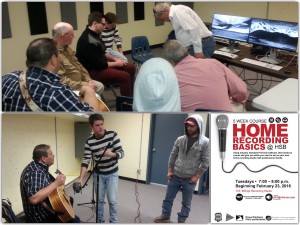 Community partner, partnered with the school to offer a basic home recording course using the recording studio at the school. Six participants registered for the program and a generous donation of $300 went back to the school. The course was such a success that the school re-signed another partnership agreement and will host another five sessions starting in April.
Huntingdon CLC
Heritage Elementary
BOKS is the best!
Due to the great success of the BOKS program lead trainer Ms. Elaine has now started to offer the program to Grade 1 students once a week at lunch hour. BOKS helps improve gross motor skills in the students while getting them physically active to help develop healthy bodies and minds.
Effective Communication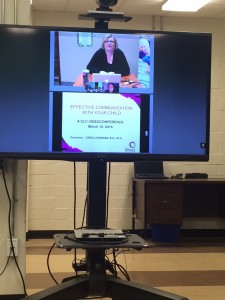 The school hosted an evening virtual workshop for parents to help build better communication skills. The virtual workshop was interactive and dynamic focusing on each individual parent's needs and wants to help them better communicate with their children.
HAECC
The gift of life
The Huntingdon Rotary Club and Caisse Populaire put on a very successful Blood Clinic at HAECC on March 31st, collecting blood from over 93 donors. Every year in Quebec, more than 80 000 people need blood transfusions or blood products. By one person donating they help four others who are in need. We would like to thank all those who help make this event happen by giving blood and or donating their time to volunteer.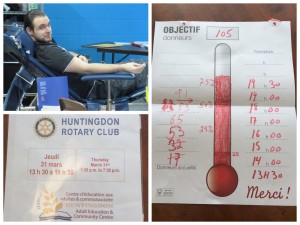 Vegetables 101
The Horticulture program was hosting an evening garden workshop on Monday, April 25th, 2016 from 6:00-8:00pm. The workshop was given in the greenhouse and covered the following subjects: garden maintenance, seeds, planting and transplanting. The free bilingual workshop was open for everyone!
Chateauguay Valley CLC
CVR High School
Language Arts in the Real World
Some Grade 8 students saw firsthand how important it is to always work on your language arts skills. Cover letters and Curriculum Vitae's were sent and evaluated by local businesses. Once read, business owners agreed to do "mock" interviews to give the students an opportunity to put their language skills to the test. Students were happy to take their learning outside the classroom walls and business owners took pride in offering their expertise in helping educate our youth.
Junior Spartans' Basketball
Friday nights at CVR all you hear is the bouncing of balls, basketballs that is. The gym is buzzing with over 50 elementary aged students learning new skills and having fun at the same time. Younger aged children are invited to the cafeteria, which offers a safe place to play. With a $5 donation, parents can use the weight room equipment under the supervision of Chantal Bergevin and enjoy some leisure activities such as spinning. All donations go towards students' participation in this year's Pierre Lavoie Run.
Start Your Engines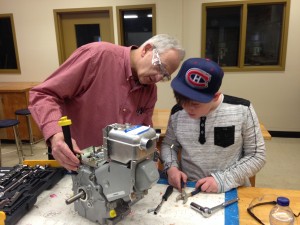 It's easy taking an engine apart but not so easy putting it back together. This is what some students are experiencing at a "Start Your Engines" after school program. Community volunteers, Gordie Furey and Gavin Johnston share their knowledge and expertise to better prepare these students for future summer employment.
Ormstown Elementary School
Express yourself
Students participated in the regional "L'art de s'exprimer" public speaking contest. The theme this year was, "partons la mer est belle." One of our students from Grade 6 won the regional event and will continue to represent OES at the next level.
Howick Elementary
Batteries, batteries, batteries!
The school is participating in the Eco Kids Battery Busters: Spring Cleaning Contest. Their goal is to get the whole community involved, help the environment, and collect as many used batteries as possible for their chance to win a prize of up to $2,500. Bring your used batteries to the school between April 1st and 29th, 2016.
CVCEC
Babysitting Course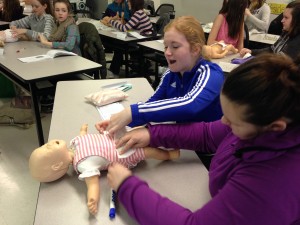 Changing diapers and what to do in emergency situation were just a few items covered during CVCEC's 8-hour Canada Safety Council Babysitters Training Course. Instructors Debbie Templeton and Janet Tolhurst are looking forward to offering this course every year to prepare our young people for this very important job.
Wearin' of the Green
The Irish Dance Club at CVR and some staff members at CVCEC got into the Irish spirit by showing off their GREEN on St. Patrick's Day.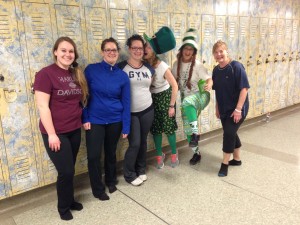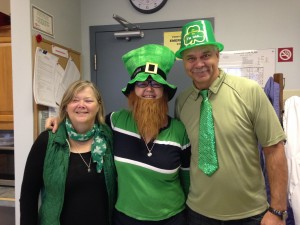 The Community Learning Concepts (CLC) approach is the creation of partnerships that provide and promote a range of services and activities, during and after the school day, to help meet the needs of our learners, their families and the wider community. The aim is to support the holistic development of our students, families and communities. The CLC monthly news & notes report showcases a small sample of some of the great initiatives and happenings in our schools!
CLC News & Notes 2015-16:
1 – Financial grants galore, Summer Camp a hit, Rockin' Readers and much more. (Summer-Sept)
2 – Healthy opportunities aplenty, Community nights in full swing, making a mosaic and much more. (October)
3 – Soccer World Champs, a principal keeps her promise, green thumbs everywhere and much more (November).  
4 – North Pole connection, teacher honoured, sweet sounds of new music and much more (December).
5 – CLC Winter Brochures: Chateauguay, Chateauguay Valley, Valleyfield (January).
6 – Magalie makes her mark, the gift of giving back and much more (February). 
7 – Video conferencing goes wild, pink shirts everywhere, a hurricane touches down and much more (March).