Valleyfield CLC – Gault Institute
Finalist in Habitat for Humanity contest!
Magalie Cyr, a Grade six student, was chosen as a finalist among 5000 Canadian students in the "Meaning of Home" contest in support of Habitat for Humanity Canada. The aim of the writing assignment was to teach students the importance of giving back to the community by having them compose a piece about what "Home" means to them. Among several prizes, Magalie was awarded $5000 to donate towards the Montreal Habitat for Humanity affiliate. Magalie is very excited that she was chosen as a finalist and is grateful that her donation will help build a house for those in need. Amazing work Magalie!
Chateauguay Valley CLC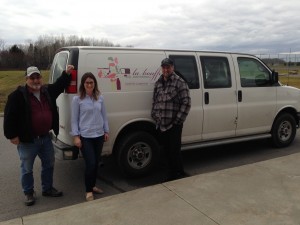 C.V.R. High School
CVR Gives Back
Students were hard at work collecting non-perishable food items in order to donate them to 'La Bouffe Additionnelle', a food bank that services Ormstown and the surrounding communities. Thanks to the CVR Student Union, "The Voice", for fundraising and donating $174.75 to the Hemmingford Elementary School's Breakfast Program.
The luck of the Irish Dance
We are happy to announce that for our Winter Session, our class sizes have doubled and we now have six students and eight adults. Some nights we are not sure who is teaching who but everyone is having lots of fun!
Study & Organizational Skills
Under the expertise of vice-principal, Lynn Harkness, 10 students are participating in a 5-week workshop on Study & Organizational Skills. They are learning the importance of being organized, from everything to locker upkeep and agenda usage, to tricks and tips for staying focused and on task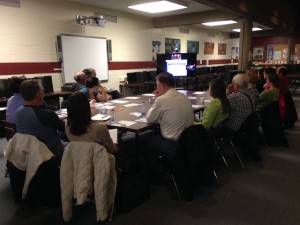 .

High-tech farming discussion
The Quebec Farmers Association held a videoconference entitled, 'Quebec's New Animal Welfare Regulations', which included 16 local farmers. They were very interested in the hot topic. Your regional high school is very happy to be able to support their local farming communities and its famers.
Huntingdon CLC
HAECC
How we live off trees!
The Horticulture program started back fresh in January by learning about trees and their importance in our daily lives. With the module being more lecture based due to the cold weather, the class welcomed the Royal Botanical Gardens by videoconference to better understand how almost everything
we use on comes from trees. Did you know even chewing gum comes from trees?
Managers Certified in Hygiene Food Safety
Every couple of months the Centre offers a Hygiene Food Safety course for managers and food handlers. During the final week of January, 10 new managers from the community were able to MAPAQ certified in order to be able to work in or run their own restaurant.
Wreath Making
The Horticulture teachers offered a unique experience in December on how to make Christmas wreaths. The 3-hour workshop was open to all students of the Centre and the community at large. In March the program will be hosting another workshop on Bonsai trees (March 3rd from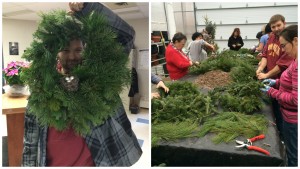 9-3 pm @ HAECC). Call if you are interested in attending the course, it is free for community members! Contact: Jayme McClintock 450-264-9276 or jmcclintock@nfsb.qc.ca
Travelled to Never Never Land
A group of 30 students from the Sunshine class, Options class and Melissa Sunshine class had the good fortune to be invited to the pre-show of Neverland in late January @ CVR. The students thoroughly enjoyed the show and want to congratulate all the CVR staff and students for their hard work; opportunities like this give our students a chance to work on their social skills.
Heritage
Free Yoga for staff at Heritage
The end of December is always a busy time of year and the stress can build up before the holidays. Heritage staff was blessed to have a yoga teacher in training come and give the staff free yoga classes. The staff thoroughly enjoyed this opportunity and can't wait to have her back again.
Water plant Trip with Grade 3
Since the beginning of November Mme. Julie's Grade 3 classes have been learning about the water cycle. The students were able to visit the local water filtration plant in Huntingdon to see firsthand the process of taking the water from the source – treatment – distribution. It was a great experience to see where their school water comes from and how the water is treated and sent to the community of Huntingdon.
BOKS Launch at Heritage
BOKS (Building our Kids' Success) is a physical activity program, which is being offered at the school every Tuesday for Pre-K and Thursday's for Kindergarten at lunch. The goal of the program is to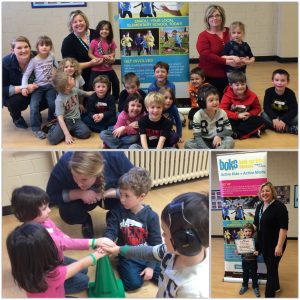 enhance academic performance and overall health in students through physical activity. Ms. Elaine has taken on the task as Lead Trainer and is excited to offer the program for 15-weeks. This will give students the chance to explore fitness based games in the hope of creating positive effects on their learning.
1-2-3… Action
Une Affaire de Famille a non-profit organisation from Ormstown is offering a lunchtime program at the school. Over the course of the 16-week program the students learn an ensemble of dances and skills. In May students from all the schools doing the program will come together and put on a show for parents.
Chateauguay CLC
NOVA Career Centre 
Creating caregivers
In partnership with the community group ARC (Assistance & Referral Centre) and the Riverside School Board, we will be offering a free caregivers course to our community members this March. We filled the 18 spots in the class in only 2 weeks,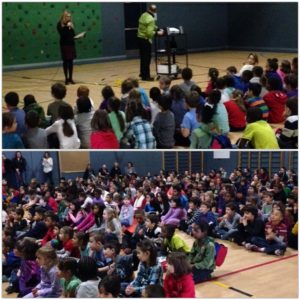 as participants will learn the necessary tools, skills, techniques and strategies to care for a child, adolescent, adult or senior.

Harmony School
Students say NO to Bullying!
During the school's anti-bullying week, Vincent Krauss, a 2nd year student from the Community Recreation and Leadership Training (CRLT) program from Dawson College came to motivate and speak to over 290 students. Vincent interacted with the students and shared his own personal stories. While Anthony Spadaccino, CLC Technician, also provided a mini-interactive workshop on cyber and verbal bullying to a Cycle 3 class.
H.S.B High School
HSB taking care of their families
Twenty Christmas care packages were sent to families of their school community. Each family received 3 boxes of food and a Super C gift card worth $25. Due to the generosity of Mr. Tom Capelli, 11 of those families also received a frozen turkey with all the trimmings to complete their meal. Included were 10 gas cards, generously donated by the Petro T in Kahnawake.
A special thanks to the school's PPO (Parent Participation Organization) and the admin support staff for driving this important fundraiser.
St. Willibrord
Helping during the Holidays
The school handed out 10 Christmas baskets to families from their school community. The school's little elves went house to house to deliver the baskets ensuring families had a magical Christmas.
'Preventing Falls' workshop
The CECN (Chateauguay English Community Network) partnered up with the MIDAS program and kinesiologist Cinthia Maheu (CISSS de la Montérégie-Ouest) to offer a preventing falls workshop to 40 seniors. Several guest speakers assisted Ms. Maheu, making the conference interactive and fun, while providing the individuals with strategies on how to prevent falls.
Community Wednesdays, ÇA MARCHE!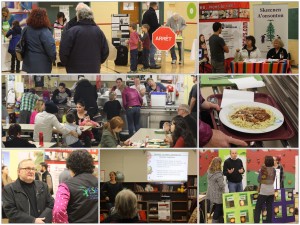 École Notre-Dame-de-l'Assomption opened its doors to the community and hosted February's Community Wednesday. The school was full of life when community members and organizations entered the school. "Healthy Living" was the theme for the evening.
Mary Gardner
Miss Rina partners up with Mary Gardner to offer Zumba
The Zumba kids program from the Fall, was such a great success the first time around the school has decided to do it again. Miss Rina will once again teach Zumba to the 44 students who have signed-up. Keeping active is one of MGS' priorities.
Centennial Park
Hitting the mark
Tennis Sud-Ouest partnered up with CPS and St. Willibrord to offer a tennis program during lunch hour or after school for the students. As an example at St. Will the mini-tennis will be for the Cycle 1 and 2 students, once a week for 12-weeks and 14 students will learn how to play at lunch with Marc-Olivier Lavallée. Great fun, new skills and a healthier lifestyle – all in one!
 10-year anniversary for Community Learning Concepts "CLC's"
The annual CLC conference was held this past January in downtown Montreal. The conference was packed with several school board administrators, principals and CLC technicians from all around the province. The conference marked the 10-year anniversary of the CLC initiative in Quebec. Workshops on the links between education and community vitality, shared leadership, communication, data tracking and evaluating community impact helped facilitate the sharing of best practises from across the network.
The Community Learning Concepts (CLC) approach is the creation of partnerships that provide a range of services and activities, during and after the school day, to help meet the needs of our learners, their families and the wider community. The aim is to support the holistic development of our students, families and communities.
The CLC monthly news & notes report showcases a small sample of some of the great initiatives and happenings in our schools!
CLC Reports 2015-16:
1- Financial grants galore, Summer Camp a hit, Rockin' Readers and much more. (Summer-September)
2- Healthy opportunities aplenty, Community nights in full swing, making a mosaic and much more. (October)
3- Soccer World Champs, a principal keeps her promise, green thumbs everywhere and much more (November).
4- North Pole connection, teacher honoured, sweet sounds of new music and much more (December).
5- CLC Winter Brochures : Chateauguay, Chateauguay Valley, Valleyfield (January).