Chateauguay CLC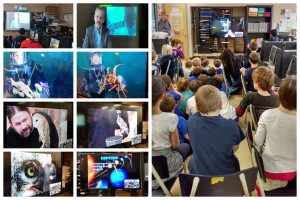 Mary Gardner 
Students gone VC Wild!
Technology teacher Ms. Cristina Gonzalez has been connecting her students to some wild VC (video conference) opportunities since the students came back from the winter break. Grade 1 students participated in 'Give a Hoot for Owls' with the Louis Richardson Zoo (Kansas). Grade 2 students jumped through the solar system with the Space Center Houston (Texas). Grade 3 participated in a baby animal video conference with the St. Louis Zoo (Missouri). While Grade 4 and 5 students made their way through a polar bear exhibit with the St. Louis Zoo and did a live dive with Channel Islands (California). Grade 6 students participated in 'Ocean Explorers' with the Columbus Zoo and Aquarium (Ohio) and held a webcast with Canadian Astronaut Chris Hadfield.
How do we know VC's have a positive effect on student learning? MGS students will tell you!
Ms. Gonzalez took the time to get some feedback from the students about what they learned during their VC sessions. Here are some of their comments:
– J'ai appris que les tortues de mer vont pondre leurs oeufs là où elles sont nées. (Zachary et Jonathan)
– American alligators can grow up to 14 feet. (Eddy)
– There are three zones in the ocean. (Taylor and Émilie)
– The zones are intertidal, neritic and oceanic. (Matheson)
– Il n'y a pas juste des crabes et des étoiles de mer dans la première section de l'océan.(William)
These were only a few comments from a very large list!
An extremely HUUUUUUGE thank you to Ms. Gonzalez for making video conferencing possible and ensuring the positive effects VC's have on student learning.
Howard S. Billings High School
Coffee Talk with the Principal
Principal Brian Seltmann opened his school doors and invited parents to stop in, grab a coffee and ask some questions during the first-ever 'Coffee Talk' on the morning of February 26th. As a CLC initiative, it was a great way for parents and community members to get to know their community high school principal and answer questions in person or via email once he had the information afterwards. More coffee talks with the principal will be planned in the near future.
St.Willibrord
Teacher Appreciation – Making a difference
A couple of teachers were nominated for making a difference on LEARN Quebec's website. Ms. Tracy Dow was recognized for always clearly explaining herself and for trying to help her students whenever she can. Ms. Melanie Pregent was also recognized for taking the time in her busy schedule to email parents back promptly and responding to any of their concerns. She was also acknowledged for being a fair teacher and being involved with the rest of the school by participating in extracurricular activities. Congratulations to Miss Dow and Ms. Pregent!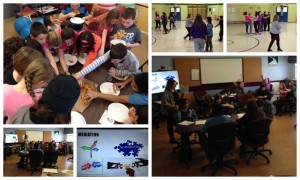 Leaders and Mediators Training 
In mid-February, stagier Angelica Tarquinio, a Dawson College student in the CRLT (Community Recreation Leadership Training) program prepared a training day for students involved in the leadership and mediation program. Over 21 students came and participated in team games, lectures, conversations and enjoyed a pizza lunch. The program is very proactive and helps reduce the incidences of bullying behaviours by having senior students prepare outdoor and indoor activities during unstructured times of the day. A thank you goes out to the students and Angelica for their hard work and dedication.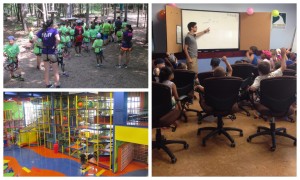 Summer Little Chefs at Crossroads
Summer Camp Crossroads is back for their 9th year at St. Willibrord and campers are in for a real treat! The camp will continue to incorporate literacy strategies by lending age appropriate novels, but they will also ensure the campers have the opportunity to participate in a cooking activity. A campers' inner little chef will have a chance to blossom. Now taking registrations. More info: crossroadscarrefour@outlook.com or call 514-833-8970. You can also visit their website at www.carrefourcrossroads.com
Services are a click away
A Health & Social Services Resource video with information about a multitude of bilingual services is at your disposal. This video includes 35 different groups, services such as: mental health, educational, health care providers, literacy, child care and much more. Produced by our CLC & Continuing Education department with help from its local partners. Contact information is available for each organization. http://nfsb.me/video-health-social-services-resources
Chateauguay Valley CLC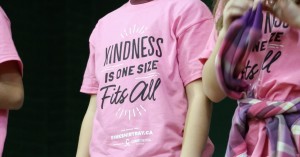 Hemmingford Elementary
Pink Shirt Day
Students beamed with pride and energy during its student-lead assembly for Pink Shirt Day on February 24th. The campaign's goal is to help put an end to bullying. The gymnasium was overflowing with pink shirts that had the slogan, "Kindness Is One Size Fits All". Students read poems, performed dance routines, sang, rapped, and performed a short skit to represent anti-bullying and acts of kindness within their school. To finish the event, everyone was invited to draw positive messages on a pink piece of paper, which will be put up in their gymnasium for the whole school to see. (Link to video)
Ormstown Elementary
Spring Musical is On The Way
Students have been rehearsing very hard for their upcoming musical this spring (April 21st at 7:00 PM). Their production strings together pieces from different musicals, including excerpts from Cats, The Lion King, Annie, Willy Wonka and the Chocolate Factory. Cycle 3 students are performing the plays and Cycle 2 students shall play a role in the choir. Between the Oompa-Loompa costumes and the students' dynamic dance choreographies, the production should be a fun and entertaining event!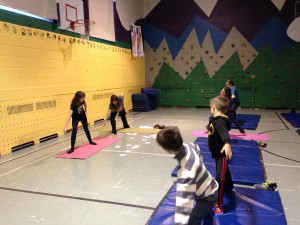 'Yoga for Kids' Wraps up for the Year
Through a Wellness Grant, K to 6 students were given an opportunity to get out of their cold outdoor lunch hours and enjoy some fun learning by practicing calm and relaxing moves. An average of 10 students gave up their lunch hours to come and stretch, bend and listen to stories all connected to yoga moves. We even had some moms come join our sessions.
Students were so good that they themselves became, "yoga instructors" and led the final class through moves under the supervision of instructor, Julie Gergely.
Howick Elementary
Soirées Communau-T hits Howick
February 10th, over 25 community organizations from the Haut-Saint-Laurent gathered in the school's gymnasium to inform the public about local services. Over 75 people came through the doors to explore the services available, and discover what our community has to offer. The next Soirée will take place at the Athelstan Fire Station on Wednesday April 13th, from (4:30-7:30pm).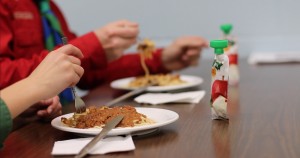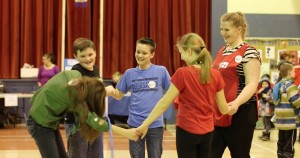 Huntingdon CLC
Perseverance Pays-off
The 15th to 19th of February was School Perseverance week across Quebec. Schools in the Haut-Saint-Laurent sent home post cards to parents & guardians thanking them for everything they do to help our students succeed in school. Across the province, students thanked and celebrated their personal 'Hero' for the different ways that they help support them academically.
Heritage Elementary
Space @ New Frontiers
On February 5th, Grade 3 students had the amazing opportunity to communicate with Canadian astronaut Chris Hadfield by video classroom. Hadfield, the first Canadian astronaut to walk in space, did a 45-minute interactive presentation to schools across Canada. He talked about his experience in space exploration, geology, his career path and goals. Schools submitted questions on topics they wished answered during the presentation. Out of 50 schools, three of our students were chosen to submit a video; the students questioned Mr. Hadfield about how astronauts perform medical procedures on the space shuttle. Following the virtual visit, the students were inspired to continue their learning by exploring the subjects of space, planets and atmosphere.
Heritage Carnival Day
To kick off the start of March break, the school staff organised a day of fun activities for all. The students were split into four groups and could choose between skating, bowling, curling or a reptile show! Thank you Heritage staff for putting on such a great carnival day!
HAECC
Dance Lessons
Since the end of February, local dance enthusiast Sylvain St-Onge has been offering personal and couples dance lessons. The lessons are based on each individual's needs and skill level. Spots are still available, if interested, call CLC Technician Jayme McClintock at (450-264-9276).
Healthy Living
Healthy Living is a new program for our Adult General Education students. The program is being offered twice a week and focuses on creating a healthy lifestyle, offering students daily workouts, healthy snacks and improved knowledge about healthy living. Since January, students have been introduced to yoga, Cross Fit, weight training, soccer, floor hockey, etc.
The year of the Monkey
Adam, a student from the Options class, gave a fantastic presentation to staff and students on Chinese culture and ways that 'Chinese New Year' is celebrated around the world. He informed and educated everyone at the centre about his culture; why the colour red is very important as it represents wealth and good fortune and why it is the year of the monkey.
Dreaming Big!
Nora, one of our students from the Sunshine class at HAECC, has an amazing talent for mimicking animal noises. Her goal is to share her skill with the world, and try and make in onto the Ellen show. Check out the video and help Nora's dreams come true! Video:
http://nfsb.me/nora-rocks-amazing-talent
Nominate a Youth in the Haut-Saint-Laurent!
The Rural Youth Gala committee is pleased to launch the 7th edition of the Gala, which will be held in mid-May. This event highlights the involvement of youth from ages 6 to 24 years old in the Haut-Saint-Laurent. The nominations period is now open! The committee invites adult members of the Haut-Saint-Laurent (worker or resident) to nominate youth in the following categories:
– Volunteering and citizen involvement;
– Healthy lifestyle (diet and physical activity);
– School or social perseverance;
– Environment;
– Cultural action.
Registration forms are available online on the home page of the MRC: www.mrchsl.com or http://www.mrchsl.com/jeunesse_comite-jeunesse-rurale. All entries must be emailed to galapetittjr@gmail.com no later than April 25, 2016.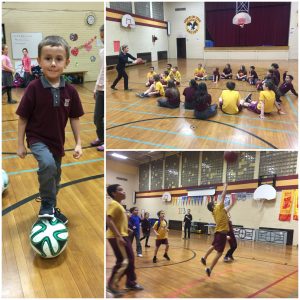 Valleyfield CLC – Gault Institute
2016 is Shaping up Nicely!
The after school sports program, "Athletic Adventures", was launched in February whereas students from Grades K-6 practice a new sport every week. We have now partnered with the dance academy "No Gravity" to be able to offer Hip-Hop classes to our students at a low cost. Grade one teacher, Ms. Rosevear, is now offering cheerleading to our Cycle 1 students during the lunch hour. An 'obstacle course training' will begin in March for our Cycle 1 and 2 students, with our partner Mr. Gordon Byrd. Finally our BOKS program will continue during the lunch hours where we have over 80 students take part over a course of 3-days. 2016 is shaping up to be a very active year!
In like a Hurricane!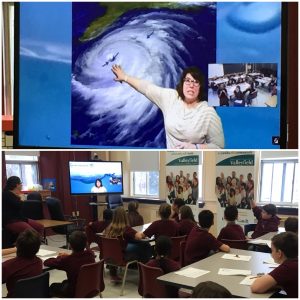 Grade 5 students' video conferenced (VC) with the Mariners Museum (Newport News, Virginia) discussing hurricanes: how they form, how they get named and the tools forecasters use to monitor incoming storms. Students were able to use these tracking devices to monitor a potential hurricane and estimate its trajectory.
Winter Carnival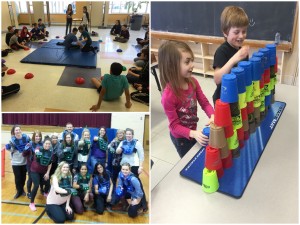 Student teachers Allison Rutter and Kierra Walsh from Bishop's University, organized a fundraising Carnival Day for a foundation which helps builds schools in third world countries. The fundraiser invited students to take part in a "dress down day" and participate in a slew of different activities during the day, such as: broomball, a hockey shoot out, tug of war, speed stacks, writing letters to Praxis Malawi, laser tag, and so much more! To participate students paid $2 and as a school, we were able to raise just under $300.
Assembly to Congratulate Magalie!
On February 23rd, the entire school held an assembly to congratulate Magalie Cyr, a Grade 6 student, who was chosen as a finalist among 5000 Canadian students in the "Meaning of Home" contest in support of Habitat for Humanity Canada. Among several prizes, Magalie was awarded $5000 to donate towards the Montreal Habitat for Human
ity affiliate. Along with students and staff, special guests were on hand including Habitat for Humanity representatives, who awarded Magalie her prizes, Magalie's family, CVCEC staff, the Valleyfield newspaper, as well as representatives of Genworth Canada.
Finally the CLC world has a new logo!
The Community Learning Concepts (CLC) approach is the creation of partnerships that provide a range of services and activities, during and after the school day, to help meet the needs of our learners, their families and the wider community. The aim is to support the holistic development of our students, families and communities.

The CLC monthly news & notes report showcases a small sample of some of the great initiatives and happenings in our schools!
CLC Reports 2015-16:
1 – Financial grants galore, Summer Camp a hit, Rockin' Readers and much more. (Summer-Sept)
2 – Healthy opportunities aplenty, Community nights in full swing, making a mosaic and much more. (October)
3 – Soccer World Champs, a principal keeps her promise, green thumbs everywhere and much more (November).  
4 – North Pole connection, teacher honoured, sweet sounds of new music and much more (December).
5 – CLC Winter Brochures: Chateauguay, Chateauguay Valley, Valleyfield (January).
6 – Magalie makes her mark, the gift of giving back and much more (February).