Healthy opportunities aplenty, Community nights in full swing, making a mosaic and much more. Here is a quick (NFSB) CLC Wrap-up: News & notes (October).
Chateauguay CLC            
Harmony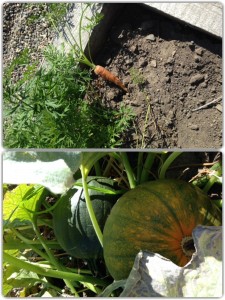 School Gardening
Students and staff kicked off their school year with a fabulous school garden and are extremely excited to have fresh produce at the tip of their fingers. The garden has turnips, carrots, lettuce, pumpkins and the entire school community is thrilled to take care of the garden during the academic year.
St. Willibrord
Community partners working together
St. Will partnered up with La Rencontre Chateauguoise in order to offer family yoga on Friday evenings in the gymnasium at a reasonable price for community members. La Rencontre will charge only $5 per adult and all the proceeds will be reinvested in order for the Rencontre to provide meals for families in need.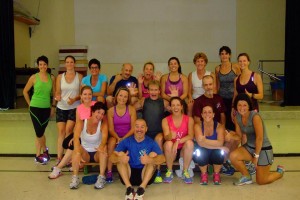 Cross training, keeping the community healthy
Start off slowly, take breaks when you need to, be part of a team and learn from one-another. This is how this 'Running Gang' has been able to inspire so many beginner runners. Whether you want to run 1-5-10 or 21 kilometers, the group has created an environment where more experienced runners help the newbies reach their goals. This unique school partnership with this low-cost cross training group now has over 50 cross trainers on two separate nights and in addition provides funds back to the school.
Making a Mosaic 
Students help create a mosaic with Mathieu their visiting artist. The project was funded by the 'Culture in the Schools' grant, which covers up to 75% of the cost of an artist and materials.  The mosaics turned out beautifully!
Howard S. Billings
Partnering to help promote Arts and Culture – "Street Arts Festival"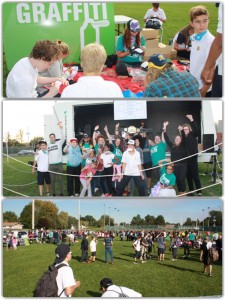 Several youth organizations teamed up with the High School to create an event intended to promote the arts for youth, ages 12-17, of the Valley-du-Haut-Saint-Laurent (area that covers municipalities such as Beauharnois, Chateauguay, Candiac, Hemmingford, Huntingdon, Ormstown). During the HSB/NOVA Community BBQ, organizers held The Street Arts Festival, which included workshops on graffiti art, multimedia, dance and music through demonstrations, held in collaboration with professional artists. This first time partnership also made it possible for free meals to be served to community members who attended at the same time.
Giving thanks together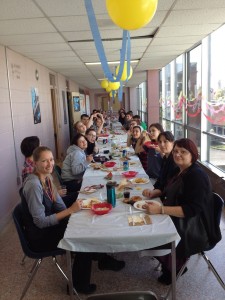 Directions Alternative students had a Thanksgiving potluck lunch on Thursday, October 8th. The students all brought in family favourites from meat pies, lasagna and desserts. All ate extremely well!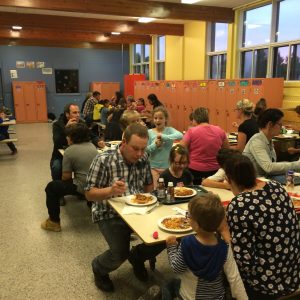 Valleyfield CLC – Gault Institute
Les 5 à 7 Communautaire: A huge success!
We hosted the first of six "5 à 7 Communautaire de Salaberry-de-Valleyfield" on Thursday, September 24th. With over 200 dinner coupons handed out, our first community evening was a success! Our theme of the evening, 'Une rentrée pleines d'idées' gathered 17 local community organizations to promote academic
perseverance, a variety of resources for parents, as well as upcoming community activities. Among the booths, the Valleyfield/Gault Institute CLC was able to promote their variety of activities offered to the community during evenings throughout the week.
CLC Evening Activities in full swing
New and familiar activities are once again being offered during the evenings throughout the entire week. We are excited to announce our English Second Language courses has doubled in attendance from last year with a growing interest from our community members. The upcoming months will be filled with Fencing, Karate, Jiu Jitsu, Girls Guides, Tennis and our English courses. For more information, please 'like' and visit the Gault Institute Facebook page, or contact, CLC technician Shannon Carson at scarson@nfsb.qc.ca or call 450-373-6922.
BOKS is here!

BOKS (Build Our Kids' Success), an initiative of Reebok and the Reebok Canada Fitness Foundation, is a FREE physical activity program for elementary schools. The goal of the program is to create a significant impact in the elementary school community by increasing physical activity as a means of improving academic performance. With the help of the Gault Institute community, we will be launching the program school-wide in the month of October!
Battle of Chateauguay Cross Country Run
Our Gault Eagles participated in the 10th annual Battle of Chateauguay Cross Country run on September 29th. Running alongside all other elementary schools in the NFSB family, our grade 3-6 students were able to get a full day of fitness and fresh air, as well as some historical facts provided by the Battle of Chateauguay Museum employees on site! Students thoroughly enjoyed their day and would like to thank all volunteers that made it possible. Pics from event (New Frontiers Facebook page).
Chateauguay Valley CLC
Soirée Communau-T HSL Community Nights
Our first of four community evenings took place on Wednesday, September 30th at école Centrale St-Antoine-Abbé. Thirty-one organizations were present to showcase who they are and what they offer to our communities of Franklin and St-Antoine. A total of 111 visitors passed through the doors, 44 of them adults and 67 children in total!   Our next community night will take place on December 9th at the St. Anicet Community Center. Youngsters even had a chance to try out some Bollywood style dancing: Check out the video for a quick look-see.
HAECC
Horticultural Therapist Career

Our nine new Horticulture students will learn about potential career paths and trainings in the Horticulture field, so to kick off this year's studies, the class participated in a video-conference offered by the Royal Botanical Gardens (Burlington, Ontario) with the purpose of discovering the duties and responsibilities of a Horticultural Therapist. The video-conference (VC) was a first for many of the students, who had never participated in an interactive learning experience with hands-on activities and the ability to converse via VC. The students learned a slew of interesting tricks and facts about gardening, how to adapt those new skills for people with disabilities and multitude of the positive effects it can have on their lives. Did you know that 45 minutes of gardening is equal to 30 minutes of exercise? Check out the video to see what the VC look and sounded like.
Vanier Lunch & Learn Series VC
Vanier College is offering a VC (video conference) series all about CEGEP. This includes a five-week interactive VC for our adult education students who are looking to head off to CEGEP in the near future. The program includes students from across the province that are interested in taking another step in their education journey. A group of dedicated students from HAECC have embarked on the 5-week journey and are very curious about how different CEGEP really is compared to High school and Adult Education.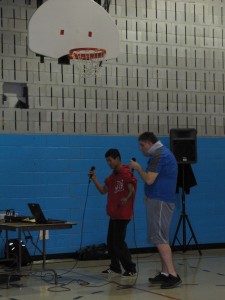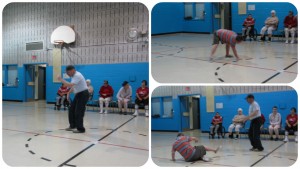 Karaoke Fridays
The following organizations: Anchor & Wings, Melissa Sunshine Camp and HAECC's 'Sunshine Class' (SFIS) will come together for an afternoon of singing, dancing and fun on the last Friday of every month! All the students joined together in the gym and took turns singing their favourite tunes! It makes a great afternoon of singing and dancing for everyone! Check out a little video snippet.
Breakfast Program
We have been offered a great opportunity to partner up with a local food bank Moisson Sud-Ouest to help supply the centre with food for a free breakfast program for all students. Every Monday, Tuesday and Friday the SVIS class sets up tables in the lobby and supplies the students and staff with a nutritious breakfast complete with cereal, fresh fruit, toast and many other delicious treats. Once finished everyone heads off to class with full stomachs and ready to properly start the day.
CVR (Chateauguay Valley Regional High School)
Running with for a cause
This year's School/Community Terry Fox Run was held on September 30th under sunny skies.   Many local citizens like moms with strollers, grandmas and community members joined the students in working together to outrun cancer.
Sports briefs
Our CLC Sport's Nights are up and running with Basketball & Weight Training on Mondays, Badminton and Movement & Mindfulness on Tuesdays, Irish Dance and Volleyball on Wednesdays, Floor Hockey on Thursdays and finishing the week off with Indoor Soccer on Fridays. These sports take place in the CVR gymnasium and are open to the community. Times are 7 to 9 p.m. and cost is $3/night. It is still not too late to sign up!
Sweet Avalon sounds
We are happy to have the Avalon Singers back with us again this year. This talented community group gathers in our library on Monday nights to practice for many of their up-coming community events.
Get your Yoga on, in order to D-stress
Yoga for Stress Relief courses are up and running again on Mondays, Tuesdays and Thursdays. For registration info, contact Julie Gergely at 450-807-8438 or check out her website @ www.triquetrayoga.ca.
Howick Elementary
Money where their mouth is
The staff and students are happy to announce they've been awarded a grant of $6,000.00 from Breakfast for Learning to use throughout the school year. These funds will be used to support and promote healthy snacks and drinks for students and also encourage healthy eating habits throughout the school.
CVCEC
Learn to save a life
Two 8-hour First Aid & CPR Courses and one 16-hour First Aid & CPR Course are being offered this fall at the centre. For dates and costs, contact Debbie Parent at 450-829-2396.
The Community Learning Centre (CLC) approach is the creation of partnerships that provide a range of services and activities, during and after the school day, to help meet the needs of learners, their families, and the wider community. The aim is to support the holistic development of our students, families, citizens and communities.
This report is only a small sample of some of the great initiatives happening in our schools!
CLC Reports 2015-16:
1. Financial grants galore, Summer Camp a hit, Rockin' Readers and much more. (Summer-Sept.)
Link to all of last year's CLC Wrap-up: News-notes: http://nfsb.me/2014-15