Believe it, TODAY on April 6th 2017 – we just received word that the 2nd FAMILY for the OUR HOUSE project is still out there!!! It can be you, or a family who you know. Don't take it for granted that too many people are applying, we have some, but as of this very second, none of our applicants have met the requirements…. therefore IT'S TIME – TO TAKE THAT LEAP and APPLY!!!
We are on the search for the 2nd family to be part of the OUR HOUSE project.
Are you a working family that would love to own your own home? That reality is closer then you think.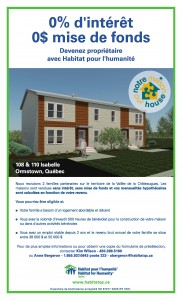 The Carpentry Program (teachers and students) from CVCEC along with its partners are currently building a semi-detached Habitat For Humanity Home for two families 0% interest mortgage (with monthly payments set according to your income) & no down payment for a state-of-the-art eco-friendly home in the beautiful municipality of Ormstown.
***** Don't miss out! *****
We have one family chosen, but that second family is still out there!!!!
Criteria for application: Habitat Flyer (Bilingual)
Family Application Form (English)
Application famille – (français)
We can help you own your own home.
For more info or if you have a question do not hesitate to contact Anne Bergeron, Habitat for Humanity (1-855-937-0643) or email: abergeron@habitatqc.ca
Check out our video gallery of the build: http://nfsb.me/video-gallery-house