Financial grants galore, Summer Camp a hit, Rockin' Readers and much more. Here is a quick "End of school year (2014-15) & Summer Wrap-up": CLC News-notes.
Chateauguay Valley CLC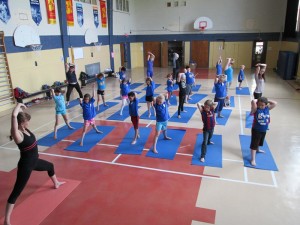 A Valley "WRAP-UP" of the CLC Community grants from 2014-15.
Health & Well Being Grants:
($2,500) – given to CVR for the Learning Centre's Cooking program.
($2,000) – given to Hemmingford Elementary to purchase a Yoga Kit and pay for instructors during Community/School Yoga & Zumba Club.
($2,000) – given to Howick Elementary to purchase new Yoga mats and cover instructor fees during Community/School Yoga Club. It also helped pay for art supplies and materials during their Community/School Art Club, who in turn made a "Tree of Life" mural which was displayed at the Ormstown Fair and will now permanently reside at the school.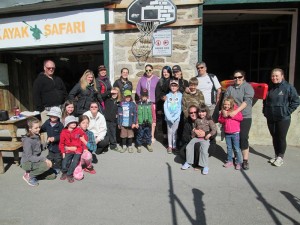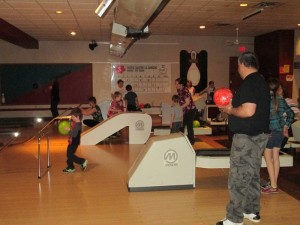 ($2,000) – given to Ormstown Elementary to encourage families to get more active while supporting local businesses. Families went bowling, kayaking and O.E.S. held a family Community/School Fun Day in late June with a BBQ, local musicians, games, etc.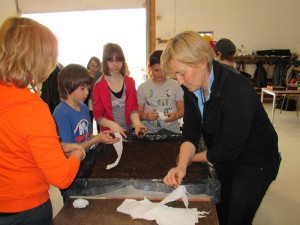 Community Based Service Learning Grant
($2,000) – given to CVCEC and Ormstown Elementary Students to purchase materials and make "Seed Bombs" to help beautify the grounds around CVCEC, they also purchase bulbs for fall planting in the CVR Memorial Garden and finally the Landscaping class received some much needed gardening tools.
Supporting Seniors Grant
($2,000) – given to Franklin Elementary to purchase a new musical keyboard and start an inter-generational choir program at the school. They also welcomed guests to come in and share their joy of music. (SEE VIDEO: Visitors from Verdun who came to use the new keyboard and share their musical talents with Franklin students.)
Jeunesse Rurale En Forme Grants – (Community Organization/Quebec En Forme)
Each Chateauguay Valley NFSB Pre-K class (Franklin, Howick, OES & Heritage) received $750.00 to put towards animation and/or equipment to help promote physical activity for 0 to 5 year olds.
CVR also received $1,000.00 to put towards the purchase of new mats for the dance studio. Stay turned for another year of exciting programs such as CVR Evening sports clubs, Irish Dancing, Start Your Engine's Club, Smart Women & Money free seminars and much, much more.
Chateauguay CLC
St. Willibrord
Cycle 3 students thanked CVECN (Chateauguay and Valley English Community Network) members with a card for participating in their reading buddies program during the year. The volunteers helped with individual reading skill activities with the students.
Student Success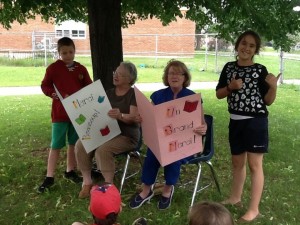 CVECN wanted to show St. Willibrord School how thankful they are, as they use a local to provide lifelong learning opportunities to the community, therefore they provided two grade six students with mini bursaries. Chelsea Mayer Senecal received a bursary for the most improved student and Cadence Patton received a bursary for most involved in the school community. A total of $150.00 was given by CVECN!
Camp Crossroads Continues
Six-years running, and Camp Crossroads delivered its services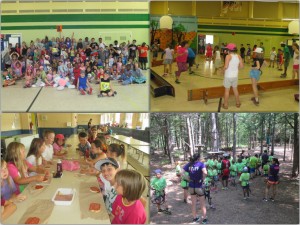 to several children in the Chateauguay region once again. Camp Crossroads had close to 100 campers this summer who participated in literacy, team building and sport activities from June 25th to August 7th. Campers had age appropriate novels to read and followed it with age appropriate literacy packages. Campers went on two exciting outings: d'Arbre en Arbre and Funtropolis. Campers participated in weekly cooking activities and had homemade lunches once a week given to them.
Valleyfield CLC – Gault Institute
Martial arts mayhem
The CLC signed a new partnership with Plante Karate Dojo over the summer. The karate courses are offered on Tuesday and Thursday evenings from 6:30-8:30PM for Gault Institute families and the entire community. In addition to these classes, they'll be offering Cycle three students (grades 5 and 6) a self-defence classes for a duration of ten weeks.
We also signed a second partnership with another martial arts (Jiu-Jitsu) school owned by Gordon Byrd. He will be giving his classes to the Valleyfield community on Monday and Friday evenings. He shall also deliver a parkour, obstacle, and agility class for Cycle two students (grade 3 and 4) starting in the spring.
Rockin' Readers is ready to roll
Last year Grade two teacher, Linda Bond, obtained several grants (one from the provincial CLC conference) in order to begin a literacy initiative in the school. In collaboration with new CLC Gault Technician Shannon Carson, the Rockin' Readers literacy initiative was created, it's goal to encourage at-home reading sessions between parents and their children. By implementing reading strategies and tips, provided by our literacy team, we hope to introduce at-home reading in all our cycle one students daily routine. We provided each Cycle one student with two new books to take home over the summer and they received an additional two books during the first week of school. Here is the website where parents can find monthly strategies to help promote reading in the home
The growing Community Garden
Our parent volunteers have been busy at work building two pergolas for our community garden. This was made possible by a grant from LEARN Quebec. It was awarded to a cycle three teacher for the "Over the Garden Wall" community project. The project is aimed to create a positive learning environment outside the classroom. The pergolas being built will be big enough for a full class to sit together and take advantage of the garden as a learning space outside the typical classroom environment. (PIC)
Facebooked!
A Gault Institute/CLC page was created over the summer in hopes of reaching a larger community audience. We will be starting to post all our CLC activities and projects, as well as school happenings, starting in the upcoming weeks. FACEBOOK PAGE.
OUR BROCHURES FOR OUR DIFFERENT CLCs (Chateauguay, Chateauguay Valley & Valleyfield) are available to download. 
The Community Learning Centre (CLC) approach is the creation of partnerships that provide a range of services and activities, during and after the school day, to help meet the needs of learners, their families, and the wider community. Their aim is to support the holistic development of our students, families, citizens and communities.
This report is only a small sample of some of the great initiatives happening in our schools!
Link to all of last year's CLC Wrap-up: News-notes: http://nfsb.me/2014-15