Mental disorders account for a large proportion of the disease burden in young people in all societies.  Most mental disorders begin during youth (12-24 years of age), although they are sometimes detected later in life.  Poor mental health is strongly related to other health and development concerns in young people, notably lower educational achievements, substance abuse and violence.
The staff of the Chateauguay Valley Career Education Centre (CVCEC ) are well aware of these issues surrounding mental health were looking for a means to reach out to help support their students.
Through a grant from the (CHSSN) Community Health & Social Services Network, the Grow & Heal initiative came to life.  Grow & Heal is an opportunity to improve mental health in individuals through working together in nurturing, planting and caring for plants while connecting the life of a plant to the student's own lives.  Students became more aware and understood the need to also nurture, give time and care towards themselves in order to promote a healthy mind and body.
"Participating in this project really gave me a new perspective on mental health and how to deal with it."
These Grow and Heal sessions were held at lunchtime in a safe, caring environment where a healthy lunch was provided.  The activity was open to all students and staff at CVCEC.
"I learned that there is a group that meets to plant and lift spirits and talk about mental health."
"Planting the plant made me feel like I was worth something and that I wasn't alone.  I felt loved."
 We were fortunate to partner with Anchor & Wings, a non-profit organization located close to CVCEC.   Anchor & Wings is a drop-in centre where people struggling with mental illness can gather, share and learn together to help improve themselves in a home away from home setting.  They participated in all our sessions and provided documentation on the important resources available within our community and offered support, strategies and methods to help students develop and improve their own coping skills.
"As a First Nations person, I am very aware of the benefits of connecting with nature and using it to cope with difficult situations.  This is a good group to have in a school setting."
The plants were a reminder that even though things may not be going well there can always be a new start, a new environment, a new season that can bring new beginnings for their own personal, intellectual, social and physical development.  The daily care and baby steps that help their plant grow to relate to their own lives and struggles and the responsibility they have to themselves and others.  This program nurtured the idea of new life and offered many a new outlook and hope for perseverance.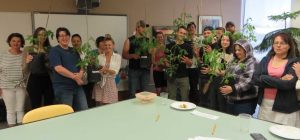 As part of the initiative and to give back to the community, students were able to take home their plants that they had been caring for throughout the sessions.  They produced beautiful planter arrangements, which were used for their CVCEC graduation ceremony as well as donating one planter to our partner, Anchor & Wings.  A tree was planted at CVCEC to commemorate this great initiative and to always remind us of the importance of taking the time we need for ourselves and that it's ok to reach out for support and to never give up. A survey was given in the last session that allowed the organizers to understand how valuable this project was to our students. We hope to continue and to build upon this initiative in the future.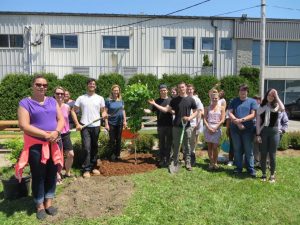 "It made me see growth as a slow process, where results happen over time as long as the care is there."
Kim Wilson
CLC Community Development Agent (Chateauguay Valley)