At CVCEC, we have the opportunity to welcome guest speakers during the year, but nothing would have prepared us for the presentation from CNESST's Jonathan Plante.
On March 12, 2007, Mr. Plante was working on a house construction site, and wanting to "save time", didn't use the precautionary steps one should take… and fell off from a makeshift ramp, hitting the frozen floor of the basement 15 feet lower…  His life has changed since.
With details (sometimes graphic), humour and a razor-sharp candour, Jonathan held the students captive for more than an hour.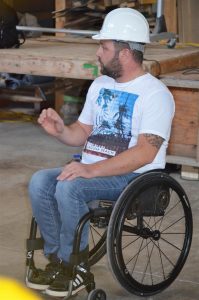 This is a must-see for any students in the trades.
Mr Plante's story can be seen on his own website, http://www.jonathanplante.com/
The conference was all in French, with very few translations needed.  His story is compelling in any language.
Le Journal St-François has put an article on his visit at CVCEC:
http://www.journalsaint-francois.ca/raccourci-nen-etait-jonathan-plante/ 
http://online.fliphtml5.com/ogzf/obob/#p=36