As you interact with us going forward you may notice our new NFSB Continuing Education logo, or maybe a new banner or ad. What we hope you'll see is, us honouring our current and future students who find the courage to overcome obstacles, defy expectation, and follow their passion.
Whether they're exploring one of our 17 trades programs like carpentry, auto mechanics,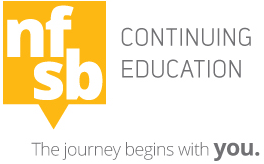 and interior decorating, or deciding to go back to school to get their high school diploma, what all of our students share in common is the conviction to say: "Here's what matters to me" and then to go out and get it.
Our work as educators, guides, and mentors is about helping them transform that aspiration into a meaningful impact on the communities where they live, play and will eventually find work. As the school year rolls on, you'll continue seeing how we intend to prove what amazing things can happen when we help people convert their passion into a real sense of purpose. Be sure to check out our facebook page and our youtube channel!
That's what we're about. What are you about? What's your choice? Where does your journey begin?