Chateauguay Valley CLC

CVR High School
Who is Who?
Ms. Langevin's Grade 8 English classes are studying the novel, 'SPEAK', the story of a young girl in trouble. Students were challenged to investigate their own local organizations that offer services in their communities. Two local organizations were found, CALACS and Residence Elle who support girls and women and families in difficulty.   These organizations were invited to visit the classes to explain more about what they do and what services they offer.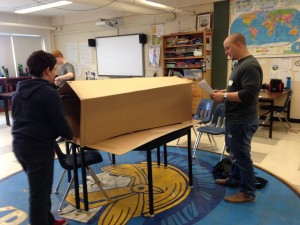 1-2-3 Action 
In partnership with local community group Une Affaire de Famille, students are offered activities such as 'magic tricks' and 'art displays' every Tuesday at lunchtime. Their talents and hard work will be presented at the annual performance on Saturday, May 21st at CVR.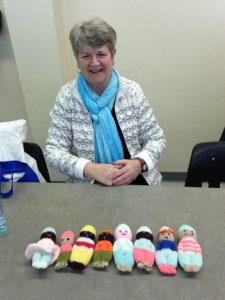 CVCEC 
Hero in 30
The Centre welcomed their first 'seniors group' to participate in a "Hero in 30" workshop. 15 seniors were updated on the latest techniques in CPR and the use of defibrillators. At the same time some of the seniors brought hand-knitted dolls for nursing students to take with them and hand out on their trip to the Dominican.
Woodworking 101
CVCEC is looking for volunteers who enjoy woodworking and have some experience and time on their hands to construct portable library boxes. If this is you, contact Kim at 450-288-5180 or kwilson@nfsb.qc.ca.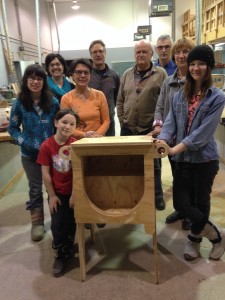 Franklin Elementary
A Franklin friendship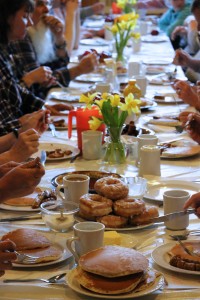 The Franklin Volunteer Firemen hosted a pancake supper event on Saturday, April 23rd. Tables were beautifully decorated with yellow daffodil flowers and local apples – spring was in the air! The school is immensely proud of the partnership it has with the Franklin Fire department.
Hemmingford Elementary
Blue Awareness
Schools across NFSB were decorated in blue for the month of April, promoting awareness around the subject of autism. The month kicked off with an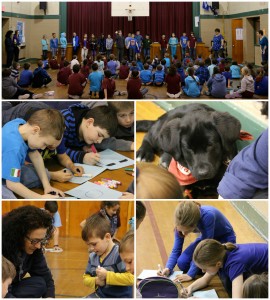 assembly in the gym to discuss topics on differences and acceptance. Their guest speaker Alie, NFSB's spiritual animator, brought her MIRA dog that is currently in training. MIRA provides services to individuals with one or many visual or motor disabilities, and to children presenting an autism spectrum disorder.
Howick Elementary
Helping Mother Earth
Inspired by Earth Day, which took place on April 22nd this year, students decorated a bulletin board for awareness. Ms. Wallace sent home a request for toilet paper rolls in the school newsletter, and was impressed with the participation of the parents and community. All students helped, either by painting or assembling the final product.
Student voice
Miss Jade, kindergarten teacher, recently saw one of MasterFoods TV commercials. In the video, parents are interviewed and asked "if you could have supper with anyone in the world, who would it be?" Each parent names someone famous. When it comes time for the kids to respond, they unanimously answer is their "family." Sceptical about the genuineness of the commercial, Ms. Jade decided to conduct the interview with her kindergarteners. To her disbelief, the students all responded within the same range of answers! The important lesson to spread is, "let's make time for the people who matter most."
Ormstown Elementary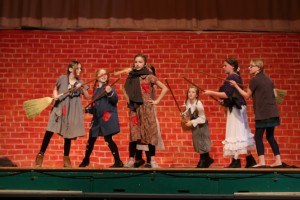 And the Oscar goes to…
CVR's Performing Arts department better hold on to their hats, because they have a lot of young talent coming their way. On Thursday, April 21st, OES's gymnasium was packed to the brim with community members who came out to see their production: OES Goes Broadway. The choir performed 10 songs throughout the evening, including numbers from Pocahontas, Frozen, and Beauty and the Beast. Performers did pieces from The Lion King, Charlie and the Chocolate Factory, Annie, and Cats. The staff at OES has a lot to be proud of; their students really set the bar high for an elementary school level show.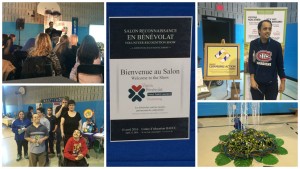 Huntingdon CLC
HAECC
Volunteers are the roots of strong communities
National volunteer recognition week was April 10-16 and in celebration of our local volunteers, the MRC of the Haut-Saint-Laurent decided to host their first Volunteer Recognition Salon & Gala. The day started off with an awareness salon for local organisations, who are always recruiting for new volunteers. Following the salon there was a Gala held to recognize outstanding volunteers in the area, over 26 nominations were submitted of volunteers. Betty Riel was named Volunteer of the Year of the Haut-Saint-Laurent because of all her hard work and commitment in giving back to the community.
Sugar Shack

The Sunshine class, Options class & Melissa Sunshine class went to visit a local sugar shack in the region. The students were able to visit the animals, learn about the maple syrup process and enjoy a great meal! The day was filled with laughter, dancing and even a few games of UNO!
Computer workshops at HAECC
Two community computer workshops were held in April, one workshop focused on basic training in email & social media and the second was more and introduction to word, excel & PowerPoint. The course was a great success and we are looking to offer another course in the fall of 2016.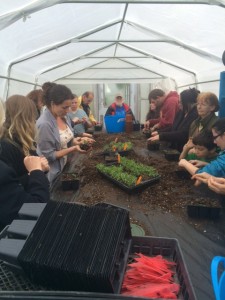 Garden Workshop
Fifteen community members participated in a 'Vegetable 101' workshop in the greenhouse on April 25th. The coordinator of the Horticulture program was happy to see so many excited participants learn about plants. Everyone enjoyed getting their hands dirty and taking home their own vegetables for their garden at home.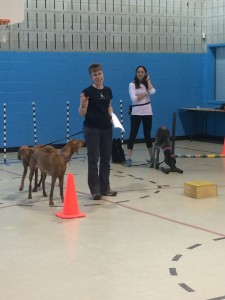 Dog Visit
The Sunshine Class and Melissa Sunshine Camp had a special visit in April from L'Equipe Guides Canins. The presentation on 'Understanding the Canine Language' involved two animators and four dogs. The presenters showed our students how to approach dogs and the signs dogs exhibit when they are com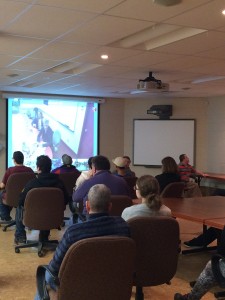 fortable or in distress.
Refugee VC
The Sunshine class took part in a videoconference about Syrian refugees. The students learnt about what a refugee is and the day-to-day difficulties they face. Many of our students were not aware of the situation and were very interested in how they can help the refugees in the future.
Heritage Elementary
Garden workshop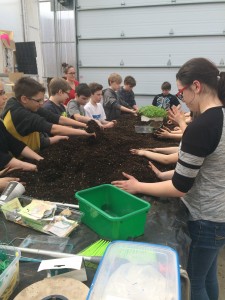 Ms. Hache's Grade 6 class had the privilege to enhance their learning by spending a day in the Horticulture department's greenhouse @ HAECC. The students learned about seeds, plants, compost and garden maintenance. As part of their science class, they will be tracking and monitoring a multitude of plants, which started out as seeds. Once the warmer weather comes many of their plants will be transplanted into the local community garden beside the school.
UNO is awesome!
Grade 5/6 students welcomed over the Sunshine Class (from HAECC) one morning to play a big tournament of UNO. The Sunshine Class have really gotten into playing UNO this year and thought it would be a great way to work on their socializing skills in a new setting. The tournament was a great success and everyone is looking forward to the next one!
Soirees Communau-T Nights
The Haut-Saint-Laurent Communau-T Nights hosted the 4th event of the 2015-2016 school year at the Fire Station in Athelstan. The night was a great success serving over 130 meals! Thank you to all the community partners in helping make these events possible. The organizing committee is already planning for the 2016-17 school year in four different municipalities. Check out our resource video of a few of our partners and the services they offer: http://nfsb.me/haut-st-laurent-social-services-resource-video
Chateauguay CLC
Harmony
Green Apple Grant Received for School Garden
Congratulations to Ms. Richer and Ms. Graham for being awarded the Green Apple Sc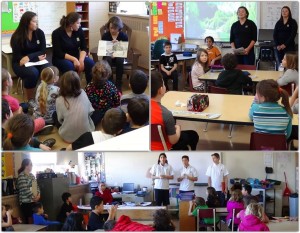 hool Program grant of $1,000 for their healthy initiative! The money will go towards starting up the school garden with the support of Ms. Graham the physical education teacher, a parent from the school and the students.
Howard S. Billings HS
Awareness is key!
Aboriginal students from the NEST (Native Education Support Team) program went to St. Willibrord School to teach students about Native culture. Students had the opportunity to participate in story telling with the high school students. NEST students did a great job in implementing Native culture in the school.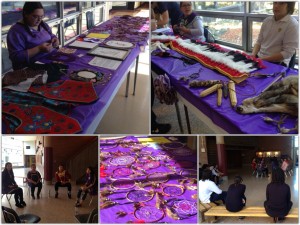 Aboriginal Culture Week
During the week of April 25-29 the school and students hosted an Aboriginal culture week. Several activities were organized such as rock your moccasins, traditional food tasting, a round dance, social justice presentation and a day of festivities.
Coffee Talk with the Principal
April 8th from 7:30am-8:30 am in conjunction with our board's CLC (Community Learning Concepts) approach, principal Brian Seltmann opened his school doors for a second time and invited parents to stop in, grab a coffee and ask some questions. It was another great opportunity
for community members to get to know their school.
St.Willibrord
Garden Time!
Students with the support from our Spiritual Animator Ali, learned of the importance of gardening and seedling. Students are preparing their seedlings in class and will begin to garden during the month of May.
Giving back
Thanks to our supporters Sou-Pa-Loo, our volunteers, staff, students and the community we were able to raise $502.80 with our Spaghetti Dinner Fundraiser for the Anna-Laberge Foundation.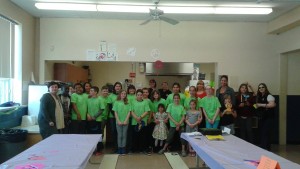 As Leaders we are excited to continue doing great things for our community.
NOVA Career Centre
Aboriginal Culture Week
NOVA held its first Aboriginal culture week from April 25th-28th. The Centre worked hard to put together a great list of activities celebrating the Mohawk culture. The weeklong event explored Aboriginal history and identity and held various workshops such as the blanket activity, identity discussions and a motivation workshop. A lunch celebration was also held on the last day.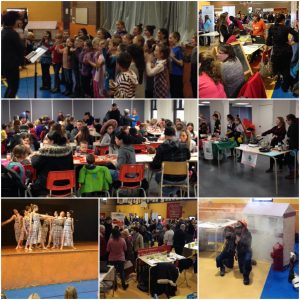 Community Wednesday at École Sainte-Martine
The school opened its doors for the first time for a Community Wednesday in early April; it was the first municipality other than Chateauguay to hold a 'Community Wednesday' in the projects eight-year history. The evening was a great success with over 500 community members attending (that's right over 500), 52 kiosks, the $2.00 Spaghetti supper offered by community group Actions Familles, activities such as trolball and face-painting also made for an amazing evening. Students from the school prepared food samples from different countries, performed dances and sang songs. Way to go école Saint-Martine!
Valleyfield CLC – Gault Institute 
Planting 2.0
Our Grade 2/3 class participated in an extremely interactive videoconference (VC) all about plants with the Center for Puppetry Arts.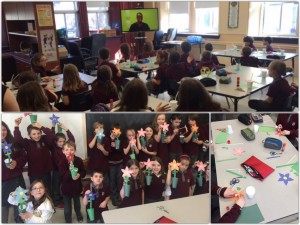 In conjunction with their current plant unit, students discussed the various parts of a plant and their functions, the role of photosynthesis, as well as how we use plants for food. To cap off the VC, students built their own plant puppets to bring home. Students loved the experience and were able to enjoy a science and art lesson all in one!
Poetry Slam 2016
For the second consecutive year, 28 students from Grades 1 through 6 participated in the school wide Poetry Slam. Students composed original pieces, in both English and French, and performed them in front of their peers and a panel of judges. A winner was selected in each cycle in both languages. Part of the panel of judges this year included special guest Rick Miller. Mr. Miller is an award-winning writer/performer/director based in Toronto and was invited to attend the Poetry Slam after our Grade 5 and 6 students saw his show "Boom" in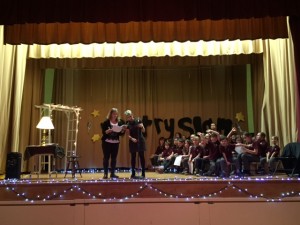 Montreal. Thank you to students, staff, and Rick Miller for making the 2nd annual Poetry Slam a success!
The Community Learning Concepts (CLC) approach is the creation and promotion of partnerships which provide a range of services and activities, during and after the school day, to help meet the needs of our learners, their families and the wider community. The aim is to support the holistic development of our students, families and communities.
CLC News & Notes 2015-16:
1 – Financial grants galore, Summer Camp a hit, Rockin' Readers and much more. (Summer-Sept)
2 – Healthy opportunities aplenty, Community nights in full swing, making a mosaic and much more. (October)
3 – Soccer World Champs, a principal keeps her promise, green thumbs everywhere and much more (November).  
4 – North Pole connection, teacher honoured, sweet sounds of new music and much more (December).
5 – CLC Winter Brochures: Chateauguay, Chateauguay Valley, Valleyfield (January).
6 – Magalie makes her mark, the gift of giving back and much more (February). 
7 – Video conferencing goes wild, pink shirts everywhere, a hurricane touches down and much more (March).
8 – Careers in sight, making music, start your engines and much more. (April).