HAECC is hosting an 'OPEN HOUSE' on Thursday May 19th, 2016 from 12:00-4:00pm & 5:00-8:00pm.
Come check out all the great things that are going on at the Centre.
Activities include: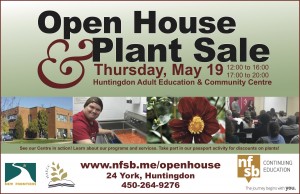 PLANT SALE! Great deals on countless plants and flowers.
Take part in our PASSPORT activity (a stamp from the kiosks) and get greenhouse discounts.
Students project showcases. See some of their work.
Learn about our programs and services.
Social service info kiosks: Alzheimers Association, Health Canada: Product Safety program / Environment / Nutrition.
NFSB Vocational Training info table.
**Free bus leaving from Chateauguay provided by the CECN (Chateauguay English Community Network) to HAECC for the afternoon. Spaces limited, call Pauline Wiedow (514-) 804-3064 to reserve a spot. (bus leaves at 11 am and heads back at 2:30 pm). Includes a free lunch prepared by the students.**
Special thank you from HAECC to our two new community partners the CECN and CHSSN (Community Health and Social Services Nework) for being involved in our Open House and providing valuable health and social service resources and awareness to the community.
*** special note: Plant Sale will be over 3-days (May 19-20-21) – times and types of plants on sale ***