Meet: Richard Priest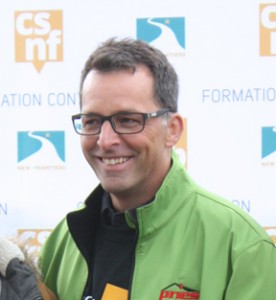 Are you actually a priest?
Yes, but one that is married and has three kids! Priest is my family name and I run a construction and electrical company.
Who's your favorite tradesperson on TV:
I have teenagers who run the TV schedule so I'm not allowed to watch "un-cool" shows.
If you could choose any tool to describe what you're like as a person, which one would it be:
A tool chest. I have expertise in many construction areas but I'm not a specialist in one particular area. I am the guy that holds things together and keeps them organized.
We heard your company is celebrating its 50 year anniversary. In an industry that sees so many companies come and go, how do you get to 50?
When you have an incredible father who builds your company from the ground up, collaborates well, and brings a great team to the table, you have the ingredients for 50 years of success. My job is to grow what he built so successfully.
What's the craziest or most ridiculous construction related story you've ever heard?
You would think I would have a book of them, but it hasn't happened yet.
What's the most common myth or misconception people have about the construction industry that you want to set straight:
Plumber's butt is not exclusive to plumbers!
We have a good friend in common, Archie. Can you tell us a bit about who Archie is and how he is a part of your life:
Archie is a 67 year old man. He's physically handicapped and has mental health challenges. He is one of my best friends and one of the smartest people I know. I count myself lucky to know him and be a part of his life.
You're taking a real leadership position on the Trade it Forward project as a major sponsor, tell us why it's so important to you:
I believe that helping others is good for the soul. Trade it Forward captures the values of giving, connection, and collaboration, all values that are a big part of how I run my business and how I aim to treat my clients.
Any special plans to Trade it Forward?
Something special coming up with my friend Archie. Stay tuned.
What advice would you give to a young student who is looking to make the construction industry their career or business focus:
Despite its image, it's not as much about muscle power but rather brain power. It's a wonderful industry and very rewarding.