Improving the Environment, one drying rack at a time!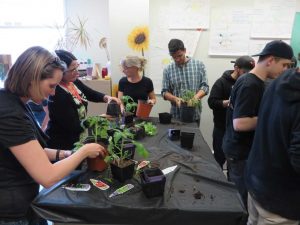 Did you know that if you use your dryer five times per week for 52 weeks in the year, you are spending between $50 to $200 per year in electricity?  Your dryer accounts for 18% of all electricity used by your household appliances.
In deciding on which object to have Grade 8 science and technology students build for their technological unit, CVR teacher Erika Hamilton kept coming back to the idea of her students making something that they could take home and use which would have a positive impact on the environment.  That's where the drying rack idea came in.
In partnership with CVCEC, students helped construct their own clothes' drying rack.  Under the supervision of CVCEC carpentry teacher, John Hodges, students sanded, fit and assembled the racks themselves.  Thank you to CVCEC carpentry students for helping prepare the pieces in advance.
This partnership project between the high school and vocation centre was successful as it introduced the students to strategies that can help reduce waste and gave them the opportunity to increase efficiency which, in turn, allows them to lower their carbon footprint significantly.
Mr. Hodges was able to meet and develop a bond with students and possibly some future candidates who may have an interest in the trades as a career option in the future. Thanks to everyone who help make this project such a success.
Kim Wilson
CLC Community Development Agent