Chateauguay CLC
St.Willibrord

Volunteers providing support for reading in French : Again this year, Montérégie West Community Network (MWCN) members, Ms. Pauline Wiedow and Ms. Suzanna Langevin joined by Mr. George Bujold came twice a week to St.Willibrord's grade 5 classes to help the students with second language reading. All benefited from individualized instruction, particularly the struggling readers. With Pauline, Suzanna and George's invaluable help, their reading levels went up and their desire to read soared! Not an easy task when it comes to reading in French. Reading opens doors and makes you dream… A huge thank you to our outstanding partners!
Camp Crossroads
Fun-filled summer for the campers: Several years running, Camp Crossroads opened its doors and was at full capacity this summer, delivering its services to over 130 campers from the Chateauguay region! Campers participated in literacy, team building and sport activities from June 27-August 12 at St.Willibrord School. Campers had age appropriate novels to read following up with literacy packages. They went on two exciting outings (Funtropolis & Sailor for the day at the Old Port) and took part in two in camp activities (Laser tag & Bouge Au Max). Weekly cooking activities and homemade lunches were also given to them.
Thank you to all of the parents and community members for another great successful summer!

Coop Determination Jeunesse
Youth at work : Carrefour Jeunesse hosted for another year its youth Coop. Fifteen (15) dynamic and motivated teenagers (14-17) worked hard during the summer.  Students were able to do basic landscaping, pool maintenance, household cleaning, babysitting and much more.
The Coop from Careefour Jeunesse allows students to get some work experience while making some money.
Gault CLC
New CLC coordinator: My name is Brooke and I am the new CLC coordinator at Gault Institute. I have worked throughout the summer to bring back successful previous activities and programs to the students. There are also new adventures we are partaking in this year.
Orientation Day: On August 31st, our doors opened for our orientation day; students were welcomed by teachers and staff. Students had a blast walking around the halls and getting a sneak peek at their classrooms. It was a great way to kick off the school year and a promising preview of the exciting months ahead.
Huntingdon CLC
HAECC
Cardio-Actifs is happy to announce the purchase of a new treadmill!  They have purchased a Nordictrack Commercial 1750 for the training room and are in the process of setting up the room for the fall session. The training room & group classes start the week of September 12th. Registrations are underway; for more information on prices and times: 579-491-3411 or cardioactifs@gmail.com
Fun-filled summer for Melissa's Sunshine Camp. Between water games, cooking, outings to the city, thematic days, and arts & craft, Melissa's Sunshine Camp had a fun-filled summer! The non-profit organization for adults over 21, with intellectual or physical disabilities, offers their program at HAECC. Our school is fortunate to have a great partnership with the organization in which a lot of our students attend the program during the summer.   Check out their Facebook page to see pictures from our summer adventures!

Heritage:
Summer school's cool with the Heritage Exploring Cheetahs! This summer, Heritage Elementary partnered with the town of Huntingdon to create an educational camp for students aged 5-12. The camp's purpose was to keep up with the students' educational skills over the summer. It ran three mornings a week for 6 weeks; each day was scheduled similar to a school day with Math, French, English, Physical Education, Drama, and Science—with the only exception of no paper and pencil!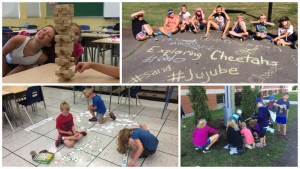 Valley CLC
Ormstown Elementary School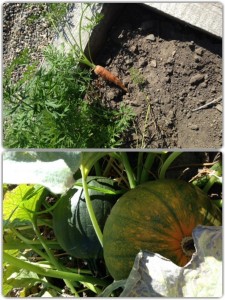 Community Garden. Ormstown's community garden was booming this summer! The lot was located in front of the town pool, which turned out to be a great idea, considering the amount of families using the soccer field nearby. OES's daycare was in charge of planting all the seeds and seedlings, and the municipal day camp maintained the plants all summer long!
Franklin Elementary School
Playground changes: Franklin Elementary School has some exciting news to reveal soon… Stay tuned!

Community nights are back. Please note that the Haut-Saint-Laurent's next Community Night will be held at Franklin Elementary on October 4th—a free spaghetti supper is offered!

CVR
CVR 's annual "Jump Start" program was a success with 32 new grade 7 students this year.  Students spent 3 days getting to know the school facilities, meeting teachers, playing games, trying different class activities and most importantly making new friends.  Special thanks to teachers Emily Langevin, Erika Hamilton and Jeremy Cameron for making the move to high school a little easier.
Welcome Back Day Grade 7 students and their parents, as well as our Learning Center students were invited back on August 31st to a "Welcome Back" light breakfast and a time to mingle and get to know each other better.  Presentations in the auditorium from the administration team, the school nurse, the Parent Action Group and Randy Johnston from the Mediation Station, helped get the year off to a great start.  Thanks to CVR's Parent Action Group for their kiosk encouraging new parents to join in on continuing to make CVR the great place that it is.
CVCEC
The "Our House" build is well underway at CVCEC.  Staff and students alike are thrilled to be part of this great school/community project.  Families can apply for a brand new home with Habitat for Humanity up until the October 31st deadline.  To receive more info and complete a pre-selection form, contact Kim Wilson at 450-288-5180 or kwilson@nfsb.qc.ca or Anne Bergeron at 1-855-937-0643, ext:  223 or abergeron@habitatqc.ca or complete a form on-line at www.habitatqc.ca
The Community Learning Concepts (CLC) approach is the creation and promotion of partnerships which provide a range of services and activities, during and after the school day, to help meet the needs of our learners, their families and the wider community. The aim is to support the holistic development of our students, families and communities.
The CLC monthly news & notes report showcases a small sample of some of the great initiatives and happenings in our schools!
CLC Reports 2015-16:
1 – Financial grants galore, Summer Camp a hit, Rockin' Readers and much more. (Summer-Sept)http://nfsb.me/financial-grants-galore-summer-camp-a-hit-rockin-readers-and-much-more
2 – Healthy opportunities aplenty, Community nights in full swing, making a mosaic and much more. (October)http://nfsb.me/clc-oct-2015
3 – Soccer World Champs, a principal keeps her promise, green thumbs everywhere and much more (November).   http://nfsb.me/clc-nov-2015
4 – North Pole connection, teacher honoured, sweet  sounds of new music and much more (December).http://nfsb.me/clc-dec-2015
5 – CLC Winter Brochures: Chateauguay, Chateauguay Valley, Valleyfield (January). http://nfsb.me/clc-brochures-chateauguay-valley-valleyfield-winter-2016
6 – Magalie makes her mark, the gift of giving back and much more (February). http://nfsb.me/clc-feb-2016
7 – Video conferencing goes wild, pink shirts everywhere, a hurricane touches down and much more (March).http://nfsb.me/clc-mar-2016
8 – Careers in sight, making your own music, start and dissemble your engines and much more. (April).http://nfsb.me/clc-apr-2016
9 – Volunteers recognized, future actors, aboriginal awareness week and much more (May). http://nfsb.me/may-2016
10 – Taking up the challenge, caregivers unite, sensational soccer and much more. (June). http://nfsb.me/june-2016/