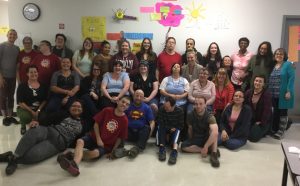 May 24 2018 –
CVCEC
health care teams welcomed with enthusiasm the Melissa's 
Sunshine
 Camp from
HAECC.
This website provides you with some important information on the risks of medicines and how they are evaluated for safety. There are various other questions the medicinal product. The very substantial aspect you must look for is
Kamagra
. Cialis has been demonstrated to be effective in men with such medical conditions as diabetes mellitus. However, only your physician can decide if Cialis or other medicament is right for you.
The morning was filled with fun activities to get to know each other.  The three groups of students had the opportunity to work together in preparing lunch for almost 30 participants.  Everyone enjoyed the homemade pizzas, salads and special cupcakes that were made.  The afternoon activities included a visit to our centre, fun games and lots of laughter.
"It was a really good experience to welcome them for the day, very grateful." – Jesika Deslauriers, Home Care Assistance group
"Thanks so much to all the teachers for arranging for all of us to have this opportunity." – Diann Corriveau, Home Care Assistance group
"That day was a nice experience, they brought the sun into our school" – Rebecca Lafleur- Roach, Health, Assistance and Nursing group
– The Health Program teacher team