CLC Wrap-up: News-notes (JUNE 2015) NFSB Family fun day, students shine during award season, deep sea diving in class (no joke!) and much more.
Chateauguay Valley CLC
Heritage Elementary
Incredible Edibles – Incroyables Comestibles

For the 2nd year, Heritage is part of the community garden project placed in the heart of the town of Huntingdon. The garden is located behind the town hall right beside the school and is open to all community members. At the end of May, Cycle 2 & 3 students took turns planting the garden and preparing for the upcoming season and Vanessa Théorêt, nutritionist from Jeunesse Rural en Forme (Haut-Saint-Laurent), taught them about gardens and how families can benefit from growing vegetables in their back yard. Between the two classes we were able to plant: tomatoes, basil, carrots, swish chard, cucumbers, zucchini, peppers and beans. The students will continue to take care of the garden and once school is out the Huntingdon Day camp will look after it. Families and community members are also welcome to rent out space for personal use at the garden or share the Incredible Edibles section with the school, day camp and the community. If you get a chance swing by the garden and take a look, we can always use a helping hand in weeding and watering you never know you may even be able to find a treat if you're lucky!
Marche Mouv'Moi

On Wednesday May 27th, cars in Huntingdon came to a stop and waited as youth of the Haut-Saint-Laurent walked the streets together to help promote self-esteem. In 2012 Arthur-Pigeon High School started a campaign to promote self-esteem and make everyone feel valued as a person. Every year the campaign ends with a 4km walk around the town promoting self-respect for ones' self-image. The walk continues to grow every year welcoming new participants from local schools and community organizations. This year Heritage, École Notre Dame and Melissa Sunshine Camp joined the walk.
NFSB Family Fun Day
The New Frontiers School Board hosted a family fun day on Sunday May 31st at Howick Elementary School. The day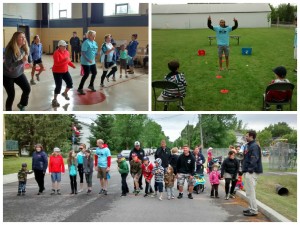 was filled with fun activities for everyone with running and walking events, games, zumba, a slap shot competition, a bouncy castle, face painting and even a dancing Polar Bear! The weather may have been cold and rainy but lots of families still came and attended the wonderful event! Big thanks to the NFSB's Healthy Eating Active Living committee for putting on such a great event.
Colloque sur la recherché de Financement Mai 2015
The Community development Corporation of the Haut-Saint-Laurent (CDC) held a conference on funding in May. The event was held at the Huntingdon Adult Education and Community Centre (HAECC) to help local non-for-profit organizations research financial opportunities to help their organizations. Through conferences, workshops, training and networking several financial options were discussed throughout the day. We had some wonderful speakers join us for the day including our main spokesperson from Centraide Sud-Ouest which helps finance some local organizations in order to continue offering great services in the Haut-Saint-Laurent.
CVR (Chateauguay Valley Regional High School)
CVR Irish luck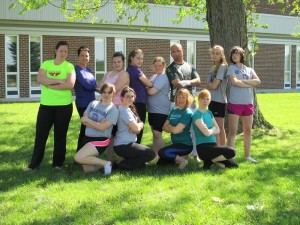 Congratulations to three of our students who participated in their first Irish dancing competition at John Abbott College. Even with a few jitters our dancers put on quite the show.
Girl power!
Self-Defense & Empowerment for Girls & Women has wrapped up with a total of 17 girls and 4 women from CVR & HAECC having participated. The reviews from the participants are in and the group absolutely loved it! The girls are looking forward to continuing in the fall.
2015 Rural Youth Gala
Once again this year we are proud to announce that over 30 students from the NFSB were nominated, recognized and celebrated for their hard work and determination on Thursday, May 21st at the Rural Youth Gala. Special thanks to our Heritage Canadian Cup Stackers for a great demonstration and CVR student Samantha Brisebois for her beautiful singing. Congratulations to all. For more info and results see attached Press Release – Rural Youth Gala 2015
Hemmingford Elementary School
Hemmingford's Archives CLC Partnership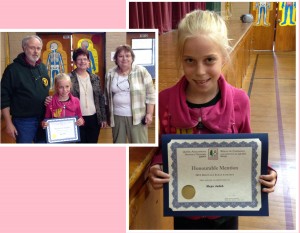 The Archives volunteers, staff and students from Hemmingford are continuing to have a successful partnership. Not only do they have access to local history at their fingertips but the volunteers also mentor and offer support on research methods. Congratulations to Maya Jadah who received an Honourable Mention from the Quebec Anglophone Heritage Network Contest for her 2015 Heritage Essay. The intergenerational impact benefits all parties, especially the students who refer to the Archives' Department as their "staffroom", a place you can go to learn and make friends at the same time.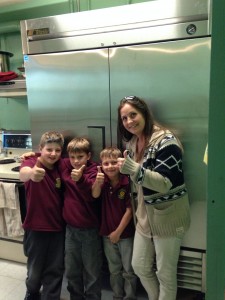 New Fridge for Hemmingford
Through a Breakfast for Learning grant, an industrial sized refrigerator has been purchased to help ease with the morning breakfas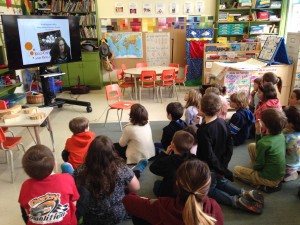 t club routine that feeds approximately 40 students each day.
Franklin Elementary
The chicken or the egg!
No "yolks" about it! Franklin Pre-K & K students engaged in "dozens" of egg facts, fun experiments and interesting literature. The video conference was a great way to welcome spring and learn more about oviparous (egg producing) animals. VIDEO CLIP (see the VC in action)!
Chateauguay CLC
St. Willibrord
School Garden = Heart of the School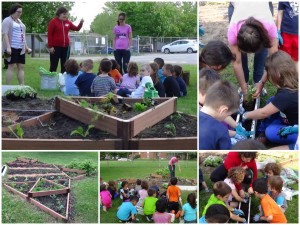 St. Will students are starting to work on their school garden. With the support from Ali Procyszyn-Cabelli our school board spiritual animator, students and teachers are relooking at new possibilities on improving and transforming the garden area to a more conducive space for learning. This will be done by expanding the garden, adding tree stumps for seating and planting a tree for shade. The garden is a welcoming place where community members are always invited to have a picnic and where students are encouraged to grab a healthy snack.
Inukshuk art exhibit at the city library!
Following their mineral project, St. Will Grade 4 students worked hard by creating their Inukshuk during art class and did a fine job presenting them to Mary Gardner students. N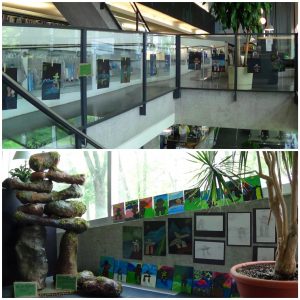 ow these fine artists partnered up with the City of Chateauguay Community Library whereas students are now displaying their work to the community at large. Feel free to stop at the library to see this amazing art exhibit!
U.S. & Canadian friendship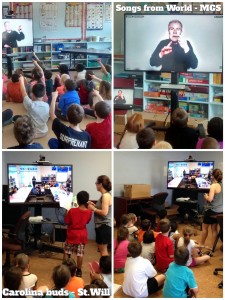 St. Willibrord Grade 2 class reconnected with Richlands Elementary Schools Grade 3 class in North Carolina. Students had the opportunity to revisit and talk about their respective weather conditions. Last time Chateauguay was covered in snow and now during the video conference the weather conditions were similar to North Carolina's… HOT! Students from both areas completed a unit on poetry and had the opportunity to read their poems and compare the differences in their work. Following the video conference and poetry unit St.Will students treated their families to a poetry café.
Mary Gardner
Songs from around the world
Students had a blast participating in a video conference called "Concert of songs from around the world". A Kindergarten and Grade 2 class were fascinated watching the curator show and play some awesome instruments. Students gained an appreciation for several unusual and uncommon folk instruments all while having fun.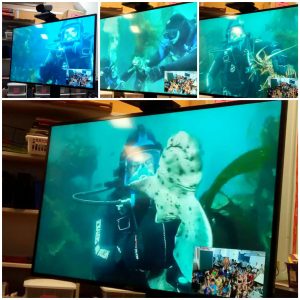 Deep Sea Diving… in class!
Grade 6 participated in their first underwater 'Live Dive' video conference. Students were able to see a kelp forest and ask live questions to the scuba divers about a sea cucumber, urchin, horn shark and lobsters that they encountered. It was spectacular!!!
Harmony
From an egg to a chick!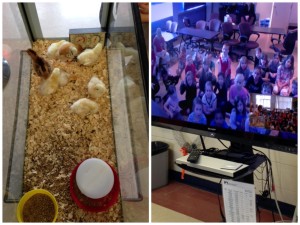 Mme Leger and her Grades 2 and 2/3 split class have been working hard to foster eggs and have the chicks hatch properly. Once the eggs hatched Harmony students along with their teacher presented their project via video conference "From egg to chick" to St. Willibrord's Grade 2 students.
Valleyfield CLC – Gault Institute
Poetry Slam
A school-wide poetry event was held on Friday, May 29th in Gault's first annual Poetry Slam. Students have been studying poetry, both in English and French and were expected to write an original piece. All grades participated and performed their poetry to the school population. Each grade was awarded a winner and one student was chosen as the overall champion at the end of the event!
Master Chef Cooking Event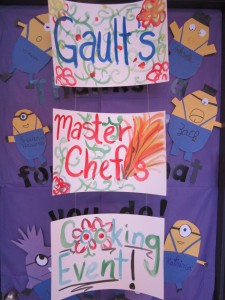 Approximately 40 students and parents of Gault participated in a Master Chef Cooking Event hosted by our Cegep stagier, Karina Bertrand. The event took place from 6-8PM and included different "icebreaker" activities lead by Gault's leadership students. The participants were assigned specific stations and collectively prepared sandwiches, salads, and desserts for the evening.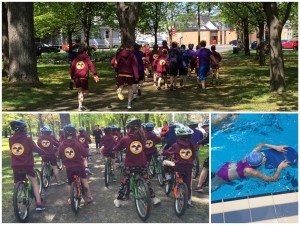 Training for the Triathlon
Our Grade 4 students have officially begun training for an upcoming triathlon. La Cité des Arts et des Sports hosted Gault, Ormstown and Heritage Elementary Schools in an all-day swimming, biking and running workshops. Students practiced specific techniques in relation to the three events and were able to get a sense of what a triathlon event consists of.
We did a Dino Dig!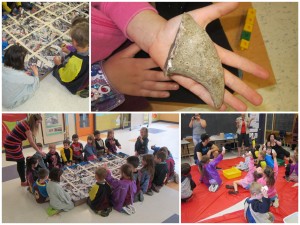 The two kindergarten classes had the opportunity to participate in a Dinosaur Dig activity with the Carnegie Museum of Natural History via video conference. The students participated in a dig to find their fossils and created casings to keep their precious finds safe. The Dino Dig activity was the final project of their dinosaur and paleontology unit.
Previous CLC News & Notes
– May 2015 – CLC News Edition 8 – My own inukshuk, a musical named Honk, dino designers and much more.
– April 2015 – CLC News Edition 7 – Mummies and minerals, self-defence courses, show me the money and much more.
– March 2015 – CLC News Edition 6 – Cooking up success, pink t-shirt power, winter wonderland and much more. 
– February 2015 – CLC News Edition 5 – Teachers and their community based projects, pirates in Valleyfield, from Columbia to Canada and much more.
– January 2015 – CLC News Edition 4 – Trip to outer space, CLC activity brochures, Santa Claus is a hit and much more.
– December 2014 – CLC News Edition 3 – Heroes, skating rink and financial literacy and much more.
– November 2014 – CLC News Edition 2 – CEGEP sneak peak, Valley community nights begin, science VCs blast off and much more!
– October 2014 – CLC News Edition 1 –  "Arts Festival @ HSB, new partnership @ CPS, community evenings start up again and much more."
The Community Learning Centre (CLC) approach is the creation of partnerships that provide a range of services and activities, during and after the school day, to help meet the needs of learners, their families, and the wider community. Their aim is to support the holistic development of our students, families, citizens and communities.