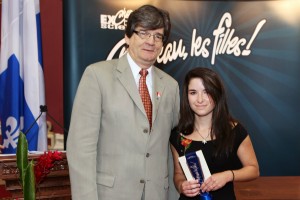 With great pride and joy we are pleased to announce Ms. Amy Ovans, a welding student from the NOVA Career Centre, has won the Chapeau Les Filles "Prize for a Student in Vocational Training from the Québec English School Boards Association". Amy was honoured in Quebec City last week at the National Assembly during the 19th Annual Chapeau Les Filles ceremony with other provincial winners.
Amy's story: "In my academic life, I have always had challenges and struggled to achieve good grades in school due to being diagnosed with Attention Deficit Disorder (ADD). Difficult, but not impossible, with hard work, remedial help and determination, I was able to achieve good marks in my Secondary schooling. When I started my Welding & Fitting program, I was one of several girls in the department, but the only girl in my group of 24 students. Being petite in stature, only 5 feet tall and 102 lbs, I had to work extra hard to earn the respect of some of the male students. The practical part of the course came easy to me, It was the theory part that I had to struggle with again due to my ADD… " To read the rest of Amy's amazing story right here (CLICK HERE).
To see the complete list of winners from this year's event – be sure to check the following link:
Complete list of 2015 Chapeau Les Filles winners
 Crédit photo : Brigitte Thériault.