The students of the Carpentry program have been hard at work on the "Our House" project; a collaborative project-based enrichment opportunity that involves partners such as Habitat for Humanity, The Village of Ormstown, Eco Habitation Quebec and many other sponsors.
There is so much to talk about on this project, but this article is about the "flying walls"!
Students were able to construct portions of the home in preparation for the build, and we used a movable crane called a "gantry" to float the larger portions into place.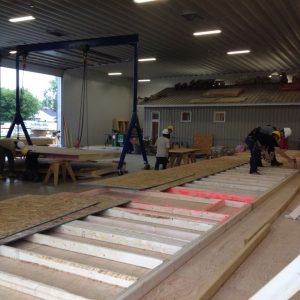 The Our House project is a great way for students to learn new techniques, discover new solutions and to build on their learning in our Carpentry program. This while successfully participating in their regular classes and working on a project to construct a quality home to be donated to Habitat for Humanity that meets and exceeds standards and strives to be certified at the highest level of LEED certification!!
What a great way to invest in your personal growth and professional education!
John Hodges, Carpentry Teacher @ CVCEC