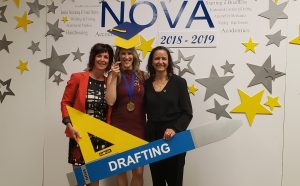 "… NOVA offre un grand choix de programmes et si nous nous appliquons dans ces programmes, ils peuvent nous conduire vers un avenir prometteur."
Discours de la conférencière invitée à la cérémonie de remise des diplômes de NOVA 2019 – Rachida El Aarfaoui
"Good evening and thank you for inviting me to speak to you today. I am very pleased to be here to join you in celebrating this wonderful occasion! First of all, congratulations to all of you. You should be very, very proud of yourselves for accomplishing this goal.  Well done! In 2008 I was standing just where you are, graduating from the Residential and Commercial Drafting program.  So proud of my accomplishment! I came here from Morocco with my sister. In Morocco, one of our core values is family and we often do things and stay together. My sister and I registered for the Accounting program.  Coming from another country, with English as a third language, we felt at home at Nova thanks to the staff, teachers and our classmates. We had the amazing Sue as a teacher, I loved her and still do, but I couldn't love accounting, (sorry Sue). Once I realized that Accounting was just not for me, I took my time to check out the other programs offered here at Nova. I had a college degree in computers, and I had a construction company back in my country, so guess what? Drafting was the perfect fit for me.
But it wasn't easy at the beginning.  As it is with every international student, coming from a different educational system, I struggled to learn the Imperial measurement, the different types of building materials with houses being built with wood instead of concrete blocks, wood joist instead of poured concrete, and the list goes on… I often look back in my memories of my first month here and I can now really empathise with other international students at Nova having walking in their shoes. Not just concerning their learning struggles, but in their trying to adapt to a new lifestyle in a different country. Hearing and trying to speak a different language all day.  The very cold weather.  The food that tastes different.  Having to come to school during their religious holidays and losing hours of sleep because of the time difference when trying to talk to their families back home. It is an enormous change that requires a huge effort adapting to their new life in a new country.
After I graduated, I got a job, and during my first month, they sent me to Memphis Tennessee for training. My goal was always to excel in my job, so I became the one who would train new employees after. In addition to working, I decided to take some of the carpentry modules in the evenings.  I also registered for and took the Construction Business Management so I could learn more about the construction industry here in Canada. I mentioned my sister earlier and I want you to know that she graduated from the Accounting program at Nova and went on to complete a bachelor degree in accounting at UQAM, and now she is teaching Computer Support at a French vocational centre in Brossard.
Vocational schools like Nova offer a wide choice and if we apply ourselves in those programs, they can lead us to a bright future.
Every training I took, every certification I earned before and while I was working, helped me to build a more promising career. I could never have done all of that without the support of my family. So to the families of those graduating today, congratulations to you too.  You should know that your support through this process made an enormous impact. I'm sure you're very proud of your graduates as they successfully close this portion of their lives.
And, as you prepare for your next steps into your new career remember to keep learning – for education is never wasted. Congratulations again graduates and best of luck in all your future endeavours."
Rachida El Aarfaoui
Enseignante au programme de Dessin de bâtiment
CFP NOVA